A determined witness to the country's deadliest "free ride"
finds herself in a life-or-death stand-off in this tension-filled short film
TIFF – World Premiere
Redlights


the directorial short film debut
by Eva Thomas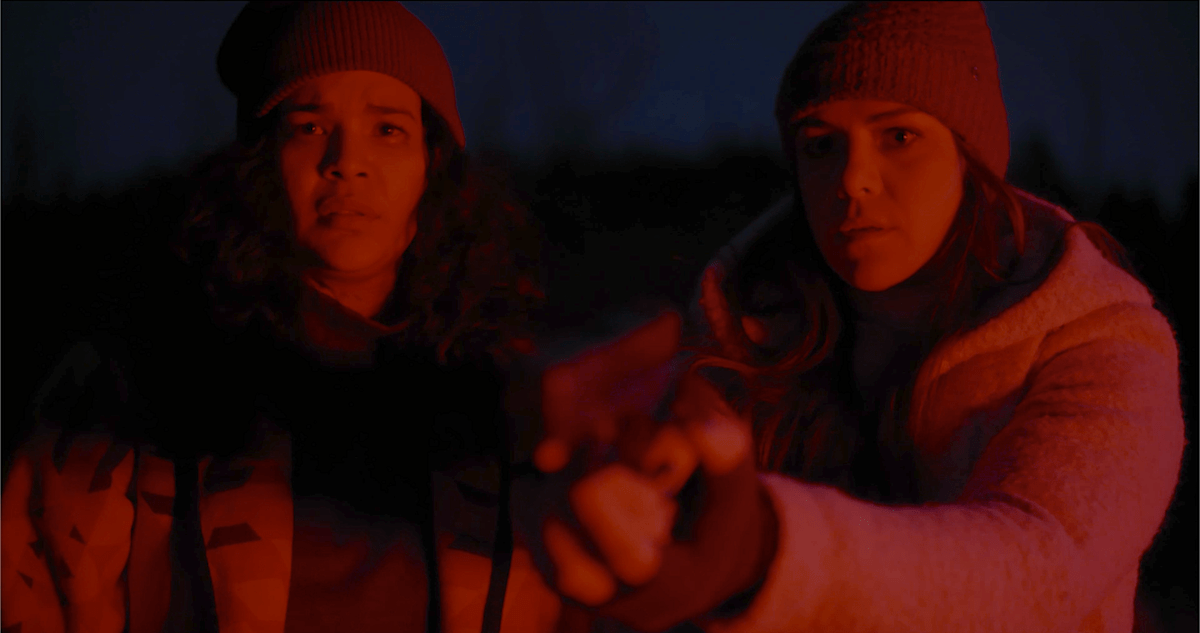 Press & Industry Screening – September 8 – 9:05am – Scotiabank Cinema 8
World Premiere Screening – September 8 – 6:50pm – Scotiabank Cinema 14
2nd Public Screening – September 12 – 11:30am – Scotiabank Cinema 14
PRESS RELEASE
"Starlight Tours" is a term associated with one of Canadian law enforcement's cruelest stains. In these instances, police officers have been reported to have abducted Indigenous people, subjected them to abuse, and cruelly abandoned them in remote, freezing locations often during sub-zero weather. Tragically, three deaths have been attributed to this brutal practice. 
In Redlights – written, produced and directed by Eva Thomas – sees best-friends Tina (Kaniehtiio Horn) and Amber (Ellyn Jade) wrapping up their night at a local bar and heading to Tina's car, when Amber realizes she has forgotten her purse.
Tina volunteers to go get it while Amber waits in the car. When she returns, Amber is gone, and locals in the parking lot point to a police car speeding away. 
What follows is a "tail" through the streets and out to the freezing countryside, with Tina relating the frightening events to her mother (Jennifer Podemski) over the phone. Eventually the chase ends, and a standoff begins.
"Redlights" is a deeply personal and ambitious project that has been both challenging and rewarding to bring to life," says Eva Thomas. "As a director, shooting this film was a profound experience that allowed me to explore the emotions, histories, and realities faced by Indigenous communities in Canada."
Eva is known for her work on shows and films like CBC's Still Standing and CTV's comedy series Shelved. She was an associate producer of Danis Goulet's acclaimed post-apocalyptic feature Night Raiders. 
"From the outset," Eva continues, "I was driven by the desire to create a cinematic experience that would not only captivate audiences but also serve as a vessel for meaningful storytelling."
Redlights is produced by Alan Bacchus, and Carousel Pictures' Katelyn Cursio, and Executive Produced by Tyler Levine of Carousel Pictures.
Eva's chilling short Redlights is a taste of what's to come, as plans are underway for a larger-themed feature.