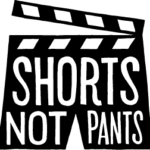 Shorts Not Pants
Announcing 2022 Hybrid Festival Lineup

In-Person November 18 – 20  |  Virtual November 21 – 27
All-Access Pass $45 ($40 until Oct. 31)
Virtual Pass $35 ($30 until Oct. 31)
Tickets, film guide and more can be found here
PRESS RELEASE
What a short 10 years it's been.
Started in 2012 in Toronto by James McNally, Shorts Not Pants Film Festival has carried the torch for short films and with this 10th anniversary the festival has garnered great attention from filmmakers around the world, and has gained a real loyal following here in Canada.  
Returning this year with a hybrid edition, November 18 – 27, Shorts Not Pants will be in-person at Innis Town Hall, in Toronto, from November 18 – 20, and a virtual edition making its programme of short films and filmmaker Q&As available across Canada from November 21 – 27.
We're pleased to present a total of 57 films from 22 countries, with 39 of those being Narrative, 8 Documentaries, and 10 Animated films. There is something for everyone. And some other facts we're pleased to share, there are 16 Canadian films, 23 films directed by women, and 10 student films.
"We're incredibly excited to be returning to in-person screenings this year," says festival director James McNally. "And we've decided to keep with our virtual festival this year, which allows us to keep reaching new audiences across Canada. We're looking forward to bringing amazing short films from all corners of the world to Canadians in the beautiful Innis Town Hall cinema and in the comfort of their own homes. And we've got two different types of passes this year. The All-Access Pass, which grants access to the entire festival, including in-person screenings and access to the virtual festival, for $45 (just $40 until the end of October). And the Virtual Pass is $35, (or $30 until the end of October), which allows everyone in the household to watch together for one low price."
This year's programme, made up of a blend of new work and festival award-winners, has been organized into eight colour-coded blocks, which will be screened in-person at Innis Town Hall from Friday November 18 through Sunday November 20, and then become available to watch virtually anywhere in Canada at 9:00am Eastern time on Monday November 21.
Press accreditation is available upon request.
ABOUT SHORTS NOT PANTS
Established in 2012 by James McNally as a quarterly short film screening series, Shorts Not Pants presents its now annual festival from November 18-27, 2022 in person in Toronto and virtually, across Canada.