MetFilm presents
The Return: Life After ISIS
A film by Alba Sotorra
Canadian Premiere – HOT DOCS
SPECIAL PRESENTATION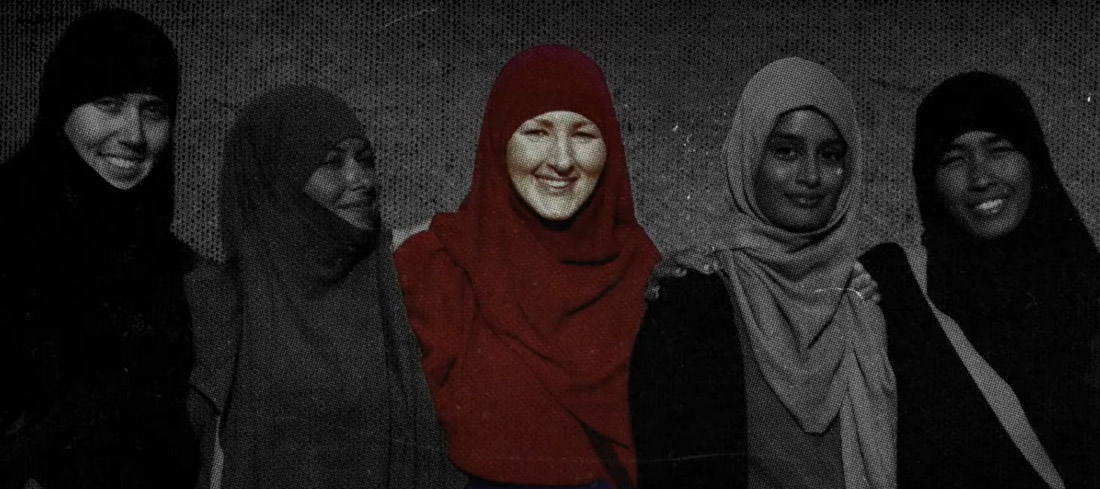 PRESS RELEASE
Young women like Canadian Kimberly Polman, the U.K.'s Shamima Begum and American Hoda Muthana made headlines when they were beguiled online by propaganda of the so-called Islamic State of Iraq and Syria, and fled their families to join the jihad.
Even accounting for the carnage of civil war, the Paradise they thought they would find turned out to be a fraud. The price of their youthful naïveté included slavery, forced marriages, brutal enforcement of orthodoxy and, ultimately, the use of women and children as human shields.
The final price, however, was the loss of their citizenship, as their home countries declared them illegal combatants. And when the "caliphate" was destroyed, they became homeless in a global sense, shamed by both their governments and media.
With unprecedented access, Alba Sotorra (Commander Arian) has been able to spend more time than any journalist speaking to and filming some of the thousands of displaced ISIS brides and their children in what turns out to be years of existence in a Roj detention camp in Northeast Syria. The result is The Return: Life After ISIS, the most personal and upfront conversations never before seen.  
Deprived of basics, let alone luxuries, the women are, nonetheless, given productive counselling by Sevinaz Evdike, a Kurdish women's rights activist who must get past her own resentment to help Kimberly, Shamima, Hoda and others like her. Tens of thousands of Kurds were killed in the overthrow, including some of Sevinaz's friends and family.
What emerges is the slow growth of a sense of community between the women in this place that is not home. And as Sevinaz puts the "wives" through trust exercises, diaries and letters to their younger selves, the story of the nightmare that was the ersatz Islamic State unfolds.
Among the former ISIS brides featured in The Return: Life After ISIS, is dual Canadian-US citizen Kimberly Polman. Born in Hamilton, Ontario, raised as a Reformed Mennonite, and winner of the Women's Opportunity Award in 2011 (Soroptimist International), she left her home country and her three adult children in 2015 to join ISIS in Syria. She allegedly made that decision for humanitarian reasons after she saw on Facebook that nursing skills were needed in the caliphate. One year after her arrival, she became disenchanted with ISIS and tried to escape, but was caught and taken to prison, where she endured brutal interrogation and rape and was eventually forced to sign a statement agreeing to face capital punishment if she ever tried to leave again. She finally surrendered to the Kurdish troops in 2019 and has been held in Kurdish detention camps since, waiting to be repatriated.
Kimberly, Shamima, Hoda, Dutch women Nawal and Hafida, and the German Ouidad come from different backgrounds. But they share the feelings of guilt and shame of having been caught in an international recruitment scheme, and they share a second wave of victimhood by the media and countries they once called home.
Sotorra's acclaimed 2015 film Commander Arian, about the Kurdish women's commandos, had her witness brutality that would haunt her. Her sympathies were complicated with the liberation of Raqqa and the sight of a young Caliphate mother holding her dead child as she fled the bombings. "That day in Raqqa, I saw the human face of ISIS for the first time, and then I felt the need to make this movie," Sotorra says.
"The aftermath of ISIS' defeat was devastating: thousands of women and children of more than 50 nationalities with nowhere to go. The overwhelmed Kurdish authorities improvised detention camps, waiting for governments to decide the fate of their outcast citizens. Thanks to the ties I'd forged with the Kurdish administration from filming at their frontlines, I was granted this unprecedented access to one of the detention camps.
"I'd been following the stories of these women who'd made headlines around the world, and branded as traitors. I wanted to hear them first-hand, and what followed was emotionally challenging. I myself lost friends in the war, so there was some tension. But as time passed, the walls of fear and pain fell to make room for an honest dialogue.
"The only way, out for all of us, is to leave hatred behind and start over, with compassion, forgiveness and understanding."
The film is an Alba Sotorra Production in association with MetFilm (The Reason I Jump, Misha and the Wolves) and Ronachan Films (Escape from ISIS, The UN Sex Abuse Scandal), directed and produced by Alba Sotorra. Also producing are Vesna Cudic and Carles Torras. The film is executive produced by Sam Collyns on behalf of Ronachan Films, Poppy Dixon & Jack Oliver on behalf of Sky UK and Jordi Ambros on behalf of TV Catalonia.
About ALBA SOTORRA – CINEMA PRODUCTIONS
Alba Sotorra Cinema Productions is a production company based in Barcelona, specialized in the production of feature films for cinema, television and VOD platforms internationally. With a team exclusively formed by women, we tell stories with social and political commitment to present-time topics, that move us because of their genuine and risky essence.
We have produced 14 titles, among them, the documentary "Commander Arian" (2018) and the Kurdish-Spanish film "The end will be spectacular" (2020). We currently have 9 projects in development. We have generated international impact through the presence of our films at Class A film festivals, such as Hot Docs and Karlovy Vary, and other high-profile film festivals such as Rotterdam, Sheffield or Shanghai. We have experience in international co- productions, having co-produced with Germany, France, Qatar, China, Syria's Kurdistan, Iraq, and most recently with Afghanistan. We have a solid relationship with Spanish and EU film funds and TV broadcasters.
About MET FILM
Based in London's Ealing Studios, MetFilm comprises of MetFilm Sales, MetFilm Production and MetFilm School. MetFilm Sales and MetFilm Production operate both independently and interdependently, working hand in hand with filmmakers to provide them with a complete journey under one roof – from development and production to marketing and distribution. MetFilm Sales specializes in international sales of documentary features and series. Our slate includes Sundance 2021 competition title Misha and The Wolves, Sundance 2020 Audience Award Winner The Reason I Jump, Sundance & Berlinale 2019 title Shooting the Mafia, Emmy 2019 nominated The Oslo Diaries, and a streaming hit of 2019, Last Breath.